The fourth quarter stats are in for the Salt Lake County housing market. While some numbers, like the median sales price, did still increase over last year, other statistics, such as the number of homes sold and the median days on market, showed a turn indicative of a slowing market. The government's move to curb inflation by raising interest rates has had a marked effect on the fourth quarter numbers.
Let's now dive into the most recent update for the Salt Lake County housing market for Q4 2022.
The Median Sales Price
Even though some would-be homebuyers withdrew from the market as a result of the increase in interest rates in Q3, the median sales price for properties in Salt Lake County was still slightly higher than in Q4 of 2021. Q4 2022 median sales price was $560,699, up from $555,000 in Q4 2021. However, when we look at the comparison between Q3 and Q4 of this year, we see a drop of nearly $40,000 when the median sales price was an even $600,000.
The rising interest rates have caused mortgage payments for the same house to increase substantially. This means that people are having to reduce their budgets in order to buy a home for the same monthly payment. As a rough example, if you could afford a $600,000 home at three percent interest, you can now only afford a $550,000 home at six percent interest. This has caused some homeowners to reduce their prices as a result of this decrease in buying power, while others are still hoping to get offers like what we saw back in the summer months.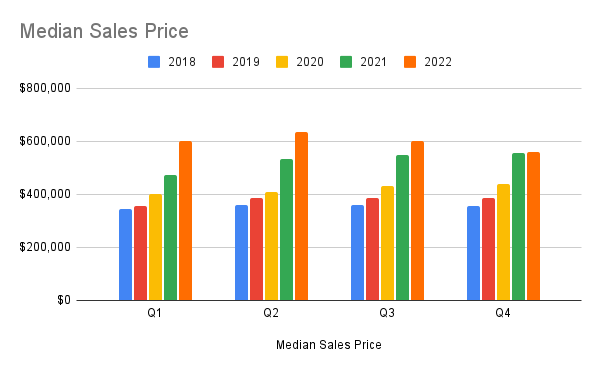 Median Days On Market
The same effects the changing market had on median sales price are also being seen on median days on market. In Q4, median days on market rose to 36, the first time we've seen it over 30 days since Q4 2019 before the pandemic surge. This is well above the low of five days we saw in Q1 and Q2 of 2021 but that's to be expected as homes always sell faster in the spring and summer months.
Anyone who has tried to purchase a home when the market is that hot, they'll be thankful for the more stress-free feeling of higher days on market. For sellers, this simply means you need to make sure your home is priced as competitively as possible from the start or you may end up having to sell for even less as your home sits on the market untouched.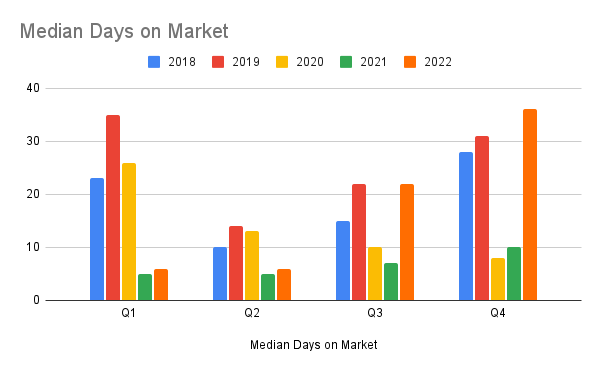 Number Of Home Sales
The most significant decline in the market can be seen in the number of homes that were sold in Q4 of 2022. Q4 saw just 1,758 home sales, the first time in the last five years fewer than 2,000 homes have been sold. When we compare it to Q4 2021 which had 3,194 home sales, we see a steep decline of 45 percent.
Salt Lake County generally has a fairly robust fourth quarter, with Q1 always representing the lowest of the four quarters. Yet this was not true for 2022 and there are a few reasons for this. One, as has been mentioned multiple times already, rising interest rates have forced many would-be homebuyers out of the market and have caused many others to reduce their budgets to keep their mortgage payments affordable. Two, many potential sellers who might have entertained a move are now faced with doubling their interest rate should they do so and have opted to not do so. Three, the increase in days on market has pushed some Q3 home sales into Q1 of 2023.
Some people would speculate that interest is waning, but it's crucial to keep in mind that just 6.5 million homes were built in the US from 2010 to 2022. Comparing that quantity to the 20 million residences built annually between 1950 and 2009, it is fair to assume that part of the problem is that we still don't have enough inventory.
People must live someplace, and as long as homeownership in the US is still considered the norm, competition for housing will persist.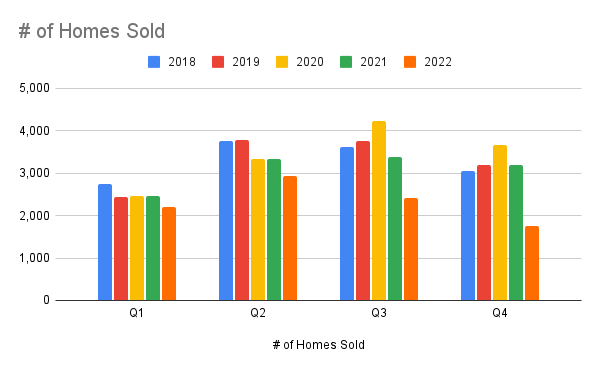 Interest Rates
Oh, interest rates. They've been the hot topic over the past few months and, as you can see from their presence in this article, they continue to be. The Mortgage Bankers Association shows the interest rate on a 30-year fixed mortgage at 6.23 percent as of the time of this writing. The 15-year fixed rate is 5.58 percent. This is more than double the interest rates that many people experienced when buying a home during the past three-plus years.
In 2021, you could easily get an interest rate under three percent if you were an excellent borrower. The reason for this upward march of interest rates is simple. The Federal Reserve, in an effort to curb inflation, has raised its Fed Funds rate multiple times in the last year. When they do so, mortgage interest rates rise as well.
Freddie Mac keeps a weekly history of mortgage interest rates. According to their tables, the average 30-year fixed rate mortgage in January of 2021 was 2.65 percent. In January 2022, it was 3.22 percent. January of 2023? 6.42 percent.
2023 Outlook For The Housing Market
The housing market for 2023 will likely continue to balance itself out as interest rates stabilize. Luckily they have come down so far this year, albeit only slightly. The Federal Reserve is likely going to continue to raise rates once or twice in 2023 to continue to curb inflation and this will continue to cause the housing market to sputter.
People will always need to move. Homes will always be bought and sold. Just because the market is stabilizing and may be cooler than it was last summer or in the few years prior doesn't mean now isn't the right time for you. Everybody's situation is different and their housing needs are unique. This market may be the opportunity you've been looking for.